Conductor Impedance and Near Field Simulation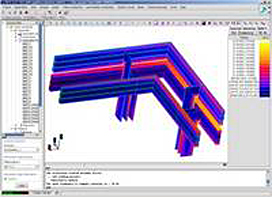 InCa3D is a ground-breaking simulation tool dedicated to the modelling of electric connections in the domains of power electronics and power engineering.
Truly taking advantage of The PEEC method the software offers a robust and fast solver combined to a user friendly and efficient graphical interface. Be one step ahead in your design process thanks to InCa3D's outstanding computation times and extended results possibilities.
InCa3D is a G2ELab (previously LEG) co-development.
The PEEC method
The PEEC (Partial Element Equivalent Circuit) method is based on low frequency formula to extract the electric parameters (resistance, self and mutual inductance) from geometries.
An easy and well adapted meshing makes it possible to take into account skin and proximity effects.
The method is very well adapted to model every kind of metallic conductors inside a complete structure and enables fast and precise computations.
The advantages of the PEEC Method for modelling electrical connections:

Equivalent circuit of a unidirectional conductor defined with PEEC elements
InCa3D 4 easy steps
Results can be either an equivalent impedance matrix which can be easily used by circuit simulators to perform a transient analysis.
Another kind of results is obtained with a complete solving of circuit equations providing the current inside the structure leading to an exact evaluation of:
the current distribution in the conductors,
the additional losses involved gy induced currents and non uniform current densities,
near magnetic field and Laplace Forces.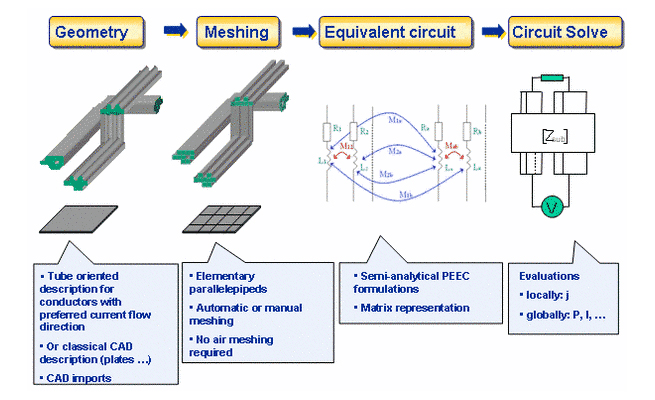 A dedicated tool
Easy control for each parameter
Parametric control in InCa3D allows the control of all geometry, electrical properties and excitation source values.
The use of such parameters which can be simple real numbers but also mathematical expressions dramatically simplifies geometry creation, modifications and re-use.
Thanks to this parametric description, InCa3D turns out to be a great help for innovation by making easier the testing of new topologies.
Quick and robust solver
Based on years of experience in the domain of software development and relying on efficient numerical methods, set up in collaboration with research teams (G2Elab), CEDRAT provides with InCa3D a highly valuable tool combining fast and precise computations.
Compared to finite element methods which are the reference in the domain of electrical engineering, the semi analytical method used by InCa3D turn out to be more adapted to the simulation of systems of conductors.
Extended post-processing capabilities
InCa3D will compute quantities which are hardly measurable like the current density, the forces induced by the current flow, losses, etc.
Besides, InCa3D makes it possible to compute equivalent impedances, and especially stray inductances which are often an essential characteristic of interconnections systems.
The range of post-processing results available enable for the designer to proceed to real virtual prototyping and thus reduce development costs.

Coupling to system simulator
In addition to the set of post processing results directly accessible in the software, InCa3D allows the export of results to system simulators like Portunus, Saber, Spice and in the Modelica and VHDL-AMS languages. The equivalent impedance matrix provided by InCa3D can be imported directly as a macro component and included in a complete electrical circuit allowing for more detailed investigations.