7 mayo, 2021

Webinar Series | Modern Electronic System Design

Simulation-Driven Design for Superior Reliability, Performance, and Time-to-Market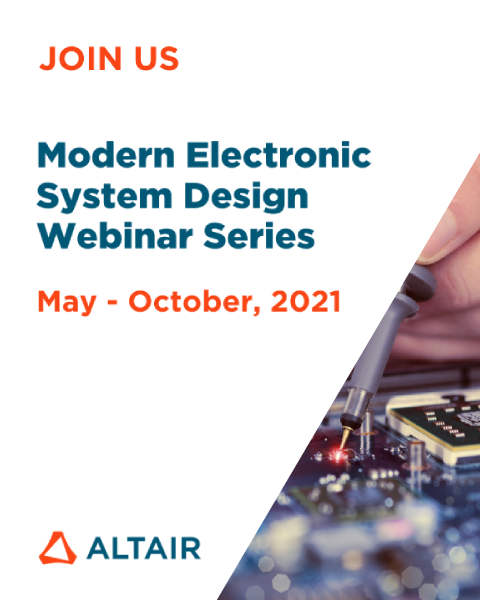 Smart connected devices are everywhere, in our homes, our transportation, and at our work. This means Electronic System Design is having a greater influence on almost every type of product requiring new simulation tools to help achieve electronic, electrical, mechanical, thermal, and connectivity goals.
Altair's simulation-driven design tools enable your team of specialized engineers to collaborate across all aspects of printed circuit board development from concept to manufacturing. See how industry leading organizations streamline their process, eliminate design iterations, and reduce time-to-market.
Who Should Attend?
This webinar series has been designed to address the needs and challenges of engineering managers, Electrical/Electronic Design engineers, Signal/Power Integrity specialist, EMC engineers, Product Engineers, PCB/Layout Designers and PCB Manufacturing engineers.
Planning
| | | |
| --- | --- | --- |
| Webinar Session | When | More info |
| How to Ensure Electronic System Reliability | May 20th | 5:00 pm (CEST) | >> |
| Optimizing Printed Circuit Board Manufacturing | June 24th | 5:00 pm (CEST) | >> |
| Designing Double-Data Rate (DDRx) Memory Interfaces Right the First Time | July 15th | 5:00 pm (CEST) | >> |
| Overcoming the Thermal Challenges of Electronic Devices | September 16th | 5:00 pm (CEST) | >> |
| Solving Electromagnetic Interference Issues without Testing | October 27th | 5:00 pm (CEST) | >> |