As expert users in the use of our programs and specialists in electrical and electronic engineering, we can carry out the design of any electrical, magnetic and thermal device. We can also characterize or optimize existing devices on the basis of a particular specifications.
On the basis of the use of our software solutions and in-depth knowledge of physical phenomena, we offer, among other, the following services:
Design and optimization of devices difficult to analyze with traditional analytic methods.
Reduction of manufacturing costs of experimental prototypes.
Less execution time compared to traditional calculation methods (analytical, reduced parameters, semi-empirical, ...) or for the manufacturing of experimental prototypes.
Combined analysis of magnetic, electromechanical and thermal problems.
Ability to perform dangerous or impossible to perform experiments without destroying a prototype.
Help to the transmission of knowledge for a better understanding of physical phenomena.
Induction motors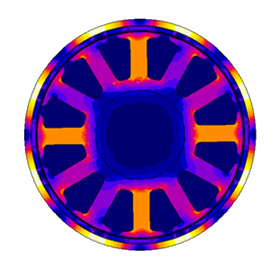 Brushless motors