PSS®SINCAL – simulation software for analysis and planning of all network types
Independently or simultaneously analyze the impacts of low, medium, and high-voltage networks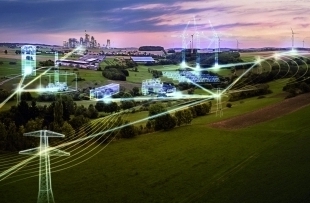 PSS®SINCAL is used over 90 countries by transmission and distribution planning engineers, protection engineers, consultants, power plant and industrial network operators, operations planning engineers, IT professionals, researchers, and more..
Through its modular design, PSS®SINCAL is highly flexible and customizable. It offers a wide variety of analysis functions for the planning, design and operation of power systems, allowing you to simulate and study: power quality, frequency stability, distributed generation interconnection, protection coordination, restoration of supply, economic driven design decisions, and more.
Find your application
Generation

PSS®SINCAL provides the core analysis and automation functions that are needed for the most accurate generation planning outcomes:

IPPs can improve the accuracy with which they can assess their generation interconnection proposals before submitting to the ISO/RTO
ISOs/RTOs benefit from an automated, trusted tool for assessing generation interconnection requests
Distribution network planning and analysis

PSS®SINCAL provides distribution engineers with the simulation tools they need for the planning, design, and operation of power distribution networks. It can be used in balanced, unbalanced, radial and meshed networks – including single-phase, multi-phase and rail networks.

Some of the most typically used PSS®SINCAL functions for distribution include: load flow, short circuit analysis, dynamic analysis, optimal capacitor placement, Volt/VAR optimization, harmonics analysis, ripple control analysis, protection coordination, and power quality assessments.
Transmission

PSS®SINCAL supports a full spectrum of analysis across power transmission planning and operations workflows, including: load flow, advanced contingency analysis, steady state voltage stability, short circuit analysis, dynamics and transient stability simulation, harmonics, protection and probabilistic reliability analysis.
Industrial networks

PSS®SINCAL provides industrial facility operators and designers with the tools they need for the planning, design, and operation of industrial power networks – such as those for refineries, chemical plants, oil platforms, mining, automobile, and other manufacturing facilities.

Typical capabilities and use cases include: short circuit calculation, power flow analysis, cable and transformer design, protection coordination, arc-flash hazard, harmonics and filter sizing, motor start, and dynamic stability simulation.
Protection

System operators, planners and protection engineers face an ever-increasing landscape of challenges around power system protection due to the integration of variable energy resources. With PSS®SINCAL, protection engineers can master these challenges by:

Monitoring and studying the management of protection devices and their settings
Facilitating protection performance assessments, including stepped-event fault clearance analysis, as well as dynamic fault sequence simulation
Providing interactive protection coordination with graphical documentation
Verifying settings directly within the network model

In addition, the built in protection security assessment module allows for an automated system-wide protection study, as well as the identification and mitigation of critical fault scenarios.
Renewable and distributed energy resources (DER)

Due to the proliferating deployment of DER on transmission and distribution networks, planners need to perform an increasing number of grid interconnection studies. Utilities and DER investors need tools that can help them automatically assess the viability of various interconnection proposals. The maximal hosting capacity (ICA) module within PSS®SINCAL automates different calculation functions (such as load flow, short circuit analysis, protection checks with network adoptions, voltage fluctuations due to DER coming online and offline, etc.). Additional PSS®SINCAL features for DER integration include:

Time series load flow
Harmonic distortion
Unbalanced stability and EMT simulation
Standard and vendor-specific dynamic models for wind generators, solar, SVC, STATCOMs, etc.
Railway traction systems

PSS®SINCAL helps engineers design and analyze power networks for rail systems. It fully supports the unique requirements of rail systems. Typical evaluations include:

Load flow / load profile simulation with back feeding engines
Sort circuit with specific attention to converters
Harmonic simulations
Transient stability and EMT for investigation of sub-synchronous power oscillations and influence of slower control systems
Model management

PSS®SINCAL offers model management solutions that reduce modeling efforts and keep multiple network models up to date from within a single application. Its master database function makes it possible for multiple users to work on a network simultaneously. Special synchronization functions – including conflict management, incremental model update, and network model merge – ensure data consistency. PSS®SINCAL can also automatically create cases on-the-fly and easily integrate network models from other applications across the utility IT landscape – including SCADA.
Pipe networks

PSS®SINCAL supports the planning of gas, water, and district heating and cooling networks. Utilities that oversee these different network types can optimize their costs and IT overhead by utilizing a single tool instead of multiple applications. PSS®SINCAL also enables companies to perform linked simulations between electrical and pipe networks to optimize the efficiency from the renewables, and use the storage capacity of the pipe networks. Typical analysis modules for hybrid networks include:

Steady state analysis
Quasi dynamic simulation
Contingency analysis for water networks
Water tower filling