RTDS is the standard for real time digital power system simulators used in 36 countries world wide.
RTDS simulator consists on adapted software and hardware, específicaly designed to abord electromagnetic transient simulations in real time.
The RTDS Hardware is designed specifically to simulate electrical power systems and to test physical equipment such as control and protection devices. Numerous analogue and digital input and output channels, with optical isolation and high accuracy, provide for flexible interconnections with the simulator. The modular design enables simulation hardware to be customized for specific study needs and yet give the flexibility for future expansion. Modularity also combines with Ethernet access to provide the capability for different people to run several simultaneous simulations or for one person to run one large simulation using all available hardware.
RTDS Simulation has two main software elements:
RSCAD Software Suite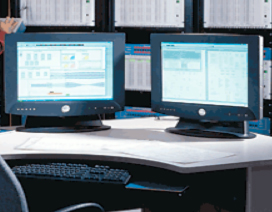 RSCAD provides the ability to set up simulations, control, and modify system parameters during a simulation, data acquisition, and result analysis. The modules of the RSCAD Software Suite include:
FileManager.
Draft.
Tline.
Cable.
RunTime.
MultiPlot.
ComponentBuilder.
Component Model Libraries
The RTDS software also includes a multitude of power system, control system and protection & automation component models, which can be used to create simulation cases. These models have been designed and tested by our research team at RTDS Technologies and have been validated and refined by our clients during their daily work with the Simulator.

The component libraries are provided as an integral part of RSCAD. RSCAD allows the user to select the component icons from the library in order to build the desired circuit. Once the system has been drawn and the parameters entered the compiler automatically generates the low-level code necessary to perform the simulation Therefore, it is the software that determines the function of each processor card during a simulation.